Stop The Haunting:1,000
A Pet Peeve Gone Nuclear. A Deep Dive Into The Internet's Favorite Art Word. A Modest Proposal For Online Publications.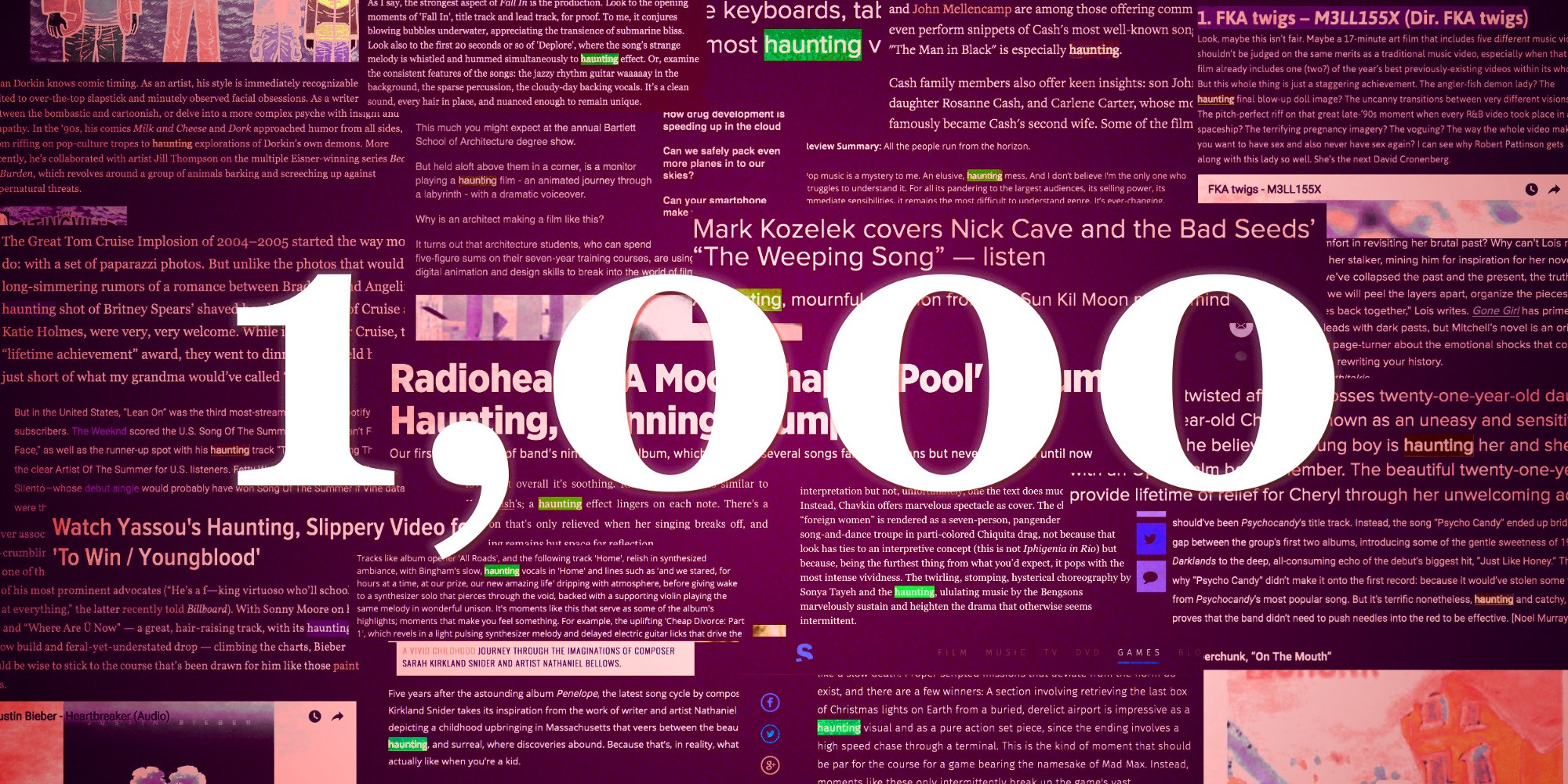 Ever notice how frequently music and art writers use the word haunting? If you keep an eye out, you'll start to see it everywhere.
In the summer of 2015, I had an interesting experience: I emailed one of my favorite publications¹ when I noticed they had used the word haunting in several headlines over a short period. My (frankly) annoying emails received only a curt reply, but they did ease off the word for a little while.
I became interested in examining this over a wider swath — and luckily, I know just enough programming to do so. Over the next six months, I scraped, browsed, collated, formatted, and posted haunting quotes from popular music, art, and culture sites.
I've spent the last decade employed as a musician, and I've started writing only recently. I freely acknowledge the sweeping hubris of this project's scope, as I am still often making rookie mistakes in this medium. So, take this as it is: an artist writing about writers writing about art. Sometimes it's helpful to get a view from the other side.
As I closed in on 1,000, it felt like a decent place to stop and dig into all these hauntings. I'll get into the technical process a little later, but for now let's just dive right in.
If just you want to read all 1,000 quotes, head over to this awesome neocities page, or you can download this XLSX file, if that's how you roll. I also built this lightweight guessing game, because heck — why not?
❦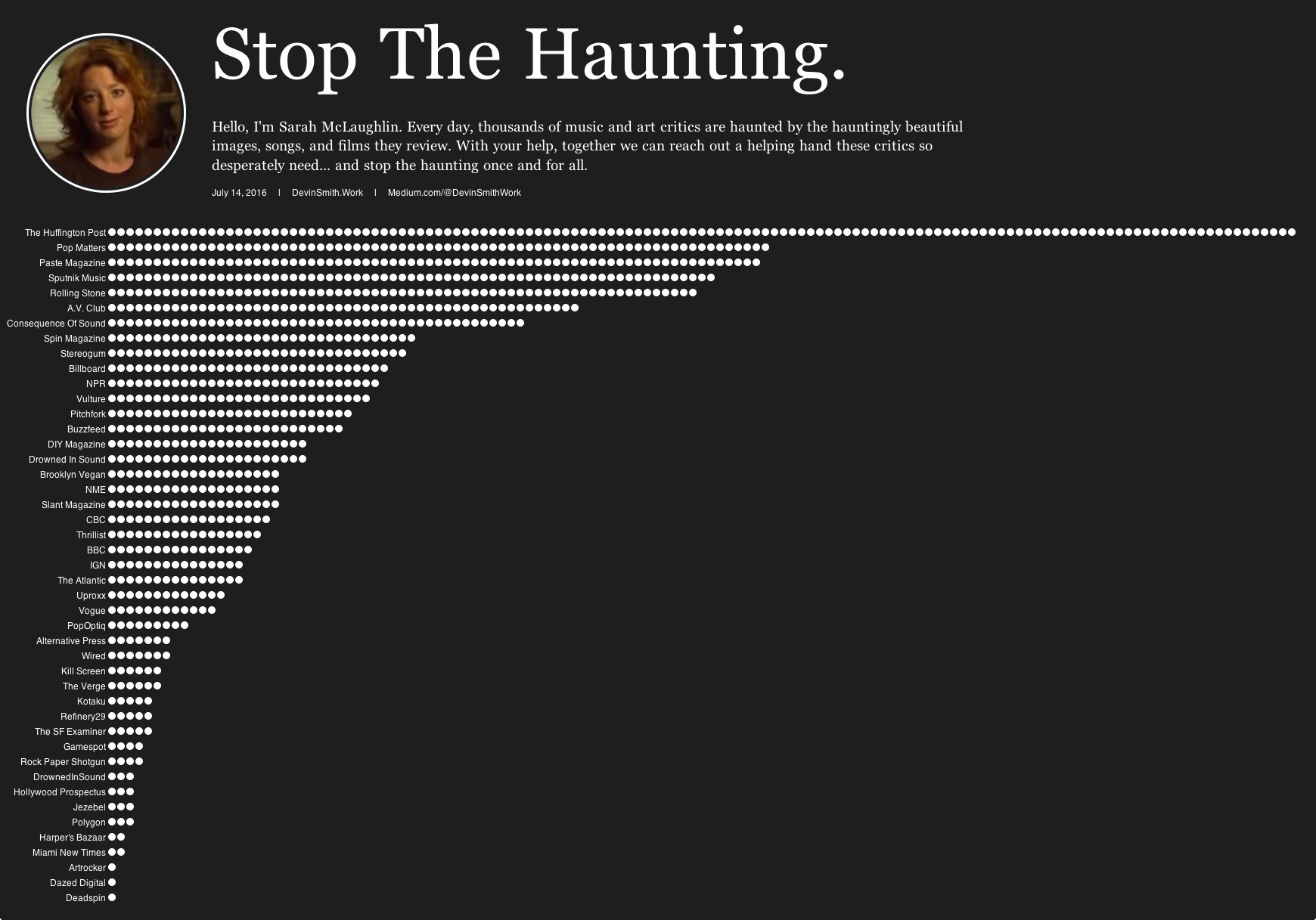 Haunting Trends of 2015
Right off the bat, some broad trends became apparent…
Haunting Covers Were Definitely A Thing
Music writers kept their ears to the ground for the next Gary Jules. Additionally, recording haunting covers seemed to be a good way for musicians on the rise to get a foot in the door with some good press: the allure of familiar material coupled with an excuse to employ the word haunting feels intuitively like an engagement home run.

The Haim sisters' ghostly, gorgeous rendition sounds like they filtered the song through stained glass quicksand—garbled, electronic low end replaces the original's slick, ethereal R&B sheen, projecting an ambiance that would be haunting if it weren't so damn catchy.
   Paste Magazine, August 6, 2015


Her haunting rendition of the former chart-topper represents "a sound I've always wanted to play with," as she told Rolling Stone.
   Billboard, October 8, 2015


For the film, the not-so-elusive chanteuse serves up a haunting, soulful rendition of the Rolling Stones' "Paint It Black."
   Vulture, October 8, 2015


The singer dropped by the BBC Radio 1 live lounge where she performed a uniquely haunting rendition of Sia's "Elastic Heart" (we didn't think it was possible, but she proved us wrong).
   The Huffington Post, September 10, 2015


Unlike the original, Adams' "Shake It Off" sounds like it was never expected to be the centerpiece on its respective album. The way analog key sounds fade into the distance and the beyond-minimal rhythmic tap give this one some haunting stylistic vibes. Respect to Adams for not attempting T-Swizzle's hip-hoppin' spoken-word breakdown. 
   Billboard, September 17, 2015


The first few seconds of this one recall the Cure's "Lovesong," and that sets the tone for a delectably haunting college rock vibe with goth undertones from around, oh hey, 1989.
   Billboard, September 21, 2015


Jesse Will takes the ultimate Swift pop hit and restructures it as a haunting ballad accented with a violin. Despite the mood shift, the song's empowering message remains intact.
   Billboard, September 17, 2015


Aplin may be best known in the UK for her haunting cover of the Frankie Goes to Hollywood ballad "The Power of Love"
   Pop Matters, September 21, 2015


They used the keyboards, tabla, sarangi, flute, santoor and violin to weave what is arguably the most haunting version of the famous soundtrack by composer John Williams.
   Buzzfeed, September 28, 2015


The B-side is a haunting cover of The Boys Next Door's "Shivers," written by The Birthday guitarist and fellow Australian Rowland S. Howard.
   NPR, October 7, 2015


The "Retrograde" maestro's chilling vocals, coupled with his sobering production and the overall melancholic spirit of the original, make for a cover that's equal parts heavenly and haunting.
   Consequence Of Sound, October 9, 2015


To close the show, Blake performed a haunting cover of Simon & Garfunkel's "The Sound of Silence." The cover remains true to the melancholic spirit of the original.
   NPR, October 9, 2015


While the former's haunting take on Nick Cave inspired folk serves as a gallant opener to the weekend's festivities, the latter's run through recent album Hidden Fields from start to finish takes on an intensely hypnotic feel.
   Drowned In Sound, October 19, 2015


Hear Amy Lee's Haunting Cover of U2's 'With or Without You'
   Rolling Stone, November 17, 2015


She gave a haunting performance of *NSYNC's "Bye Bye Bye." Who knew what a hauntingly sad song the 2000 hit could be?
   Refinery29, November 30, 2015


With her powerfully haunting vocals, Evanescence's Amy Lee can sing anything (last month, she slayed U2's "With or Without You"). The frontwoman has now covered Led Zeppelin's "Going to California," and it's a "mountain of dreams."
   billboard, December 2, 2015


It's not easy to flip a Sade track, especially, "No Ordinary Love." On that 1992 smash single, Sade Adu and her band told an emotionally haunting story about a love that was beautiful but unhealthy and, by the end, all-consuming.
   NPR, December 10, 2015


Juliet Simms is releasing a cover of Leonard Cohen's "Hallelujah" for the holiday season, and AP has your exclusive first listen. Simms says she has been in love with the haunting song since she was a child.
   Alternative Press, December 16, 2015


Shawn Colvin's take on the Rolling Stones classic "Wild Horses" is especially moving and revelatory as she sweetens Jagger's melancholy lines and makes the sweeter ones more melancholy. It is both haunting and uplifting in ways that the original is not.
   Pop Matters, January 27, 2016


Earlier this week, Claudio Sanchez of Coheed And Cambria (you know you loved them back in high school and/or college) released a video of himself covering Adele's "Hello." ... Sanchez's rendition of the ballad is hauntingly beautiful thanks to his high voice, which lends itself surprisingly well to the track.  
   The Huffington Post, December 17, 2015


It's a beautiful rendition of the star's power ballad [ed: Adele's "Hello"], and spine-chillingly haunting. Accompanied by just a piano and filmed in a tiny room at Seoul Music High School, the schoolgirl hits every note, with some commenting underneath the video that it's even better than the original.
    The Huffington Post, November 16, 2015


The French version makes the song [ed: Adele's "Hello"] even more hauntingly beautiful.
    Buzzfeed, November 6, 2015


The Most Haunting Version of Adele's 'Hello' So Far
	The Huffington Post, January 30, 2016

Hello From The Haunted Side…
As you might have gleaned from the last four quotes above, writers found themselves thoroughly haunted by Adele. To be fair: judging from Twitter's collective emotional collapse upon Hello's release, a more accurate thought might be "Critics: they're just like us!"

Adele's New Single 'Hello' Is Another Hushed, Haunting Piano Ballad To Break Your Heart
   NME, October 23, 2015


The interview's publication was preceded by the video for new single 'Hello', a haunting piano ballad, which she addressed during the chat, while we also learned that 25  features collaborations with Danger Mouse and Bruno Mars and even sees Adele go disco on 'When We Were Young'.
   NME, October 27, 2015


Bruno Mars assisted with the showstopping diva's anthem "All I Ask," and Danger Mouse helped her channel "Sealine Woman"–era Nina Simone on the haunting "River Lea." Even pop-radio whisperers Max Martin and Shellback show up, for the playful, inevitable smash "Send My Love (To Your New Lover)."
   Vulture, November 20, 2015


And, of course, the singer's soaring voice took center stage, rising throughout the haunting chorus: "Hello from the other side."
   Consequence Of Sound, November 29, 2015


I dismissed the flood of Adele chatter much like I did every other public trend and went about my business. Case and point: To this day, I have yet to read Harry Potter. It was a few days later when a slip of the finger accidentally switched my Pandora channel from "Spring Break 1995" to "Today's Hits" that the haunting female vocals of Adele's "Hello" infiltrated my eardrums. The melodious powerhouse rocked me to my very core and I stopped mid-walk in the crowded city streets to collect myself.
   The Huffington Post, December 11, 2015

Ethereal, Melancholic, and Spare
Writers inked their quills and elegantly inscribed these Victorian-Era throwbacks. Keep in mind these are only examples where the words in question are used in the pull quote, meaning these three words are likely underrepresented here. Bonus points for elegiac.

She graced a cover without actually gracing the page, and all we really know about her is that she once wore a dress made out of meat. Haunting, ethereal artist Tula Lotay, taking a break from Warren Ellis scripts between Supreme: Blue Rose and the forthcoming horror title Heartless, joins the crew this week to finally put this least-seen goddess in the spotlight.
   Paste Magazine, August 4, 2015


What makes it of a piece with her earlier work is the tone—haunting, elegiac, and drenched in gloom—and her ethereal-but-raw voice.
   A.V. Club, August 7, 2015


Corey Hawkins nails the ethereal essence of Dr. Dre. Casting O'Shea Jackson Jr. as his dad Ice Cube was a stroke of genius and is absolutely haunting.
   The Huffington Post, August 7, 2015


The main thing, I believe, that draws people to the band is their ability to amalgamate dense, heavy pieces of music with beautiful, often ethereal and haunting clean sections.
   Sputnik Music, September 15, 2015


The band's one-sheet doesn't lie: "Annabelle's Curse deftly sways from haunting and ethereal melody to unflinching and unforgettable rhythm and riffs.
   The Huffington Post, September 19, 2015


On the opposite end of the spectrum, breakup anthem "Letting Go" channels 90s power ballads in the best way possible, and the truly haunting "Look Up And See Infinity, Look Down And See Nothing" features Sanders doing his best Lacey impression over an ethereal glockenspiel loop.
   Sputnik Music, October 9, 2015


A jaw-dropping example of this is album centerpiece "Take Care," which Cox told Pitchfork began as another of his '50s-indebted pop ballads before Allen gave it a synth-based remix and then Broadcast's James Cargill "added his ethereal tapes and electronics"; haunted and haunting, it's clearly a Deerhunter track.
   Spin Magazine, October 16, 2015


This is best displayed in a run of three tracks during the album's second half. 'Near to Fire for Bricks' is genuinely haunting, almost reminiscent of the best of Coil or Current 93 in its mystical etherealness.
   Drowned In Sound, October 26, 2015


There's the ethereal, haunting organ music that opens, but there's also time for some doomy stomp, some post-rock stargazing, and a groovy, guitar-solo led climax.
   Brooklyn Vegan, October 29, 2015


Nearly three years after its homeland debut—and two years since it made its way to SundanceTV in the U.S.—the program is back, for eight more episodes of haunting, elegiac mystery.
   A.V. Club, October 30, 2015


As before, the album starts with a mellow, quiet section before exploding into thunderous doom-metal, but here the quiet section moves away from the ethereal, drone-focused music of the last two albums and straight into folk, with strummed guitars, a string section, and Nadler's haunting vocals carrying the song into darkly hummable territory. When the inevitable crush of the guitars come, they feel more organic, a bit softer around the edges, and are further tempered by a couple of beautiful arpeggiated guitar passages that inch this thing towards prog.
   Brooklyn Vegan, November 5, 2015


Albeit slight and delicate in appearance (his oversized clothing swallows him up), Smith has a powerful talent of being able to take the atmosphere of the venue from hauntingly dark to sweetly and happily ethereal throughout the set.
   Brooklyn Vegan, November 6, 2015


This haunting tale of nighttime seduction features ethereal atmospherics and outstanding songwriting.
   Billboard, November 12, 2015


As before, the album starts with a mellow, quiet section before exploding into thunderous doom-metal, but here the quiet section moves away from the ethereal, drone-focused music of the last two albums and straight into folk, with strummed guitars, a string section, and Nadler's haunting vocals carrying the song into darkly hummable territory.
   Brooklyn Vegan, November 20, 2015


As before, the album starts with a mellow, quiet section before exploding into thunderous doom-metal, but here the quiet section moves away from the ethereal, drone-focused music of the last two albums and straight into folk, with strummed guitars, a string section, and Nadler's haunting vocals carrying the song into darkly hummable territory.
   Brooklyn Vegan, December 1, 2015


Haunting and ethereal, the video features the fluid movements of Adelene Stanley who is currently studying at the Rambert School of Ballet and Contemporary Dance in London.
   The Huffington Post, December 22, 2015


As the final cut-scene fades, and the admittedly somewhat bittersweet conclusion segues into the credits, O's haunting track "I Will Rise" begins. A sparse guitar melody echoes quietly (performed by David Pajo of Slint, Tortoise, Zwan, and many other excellent groups) and sets the tone. Unlike the pounding score that accompanies most of the game's adrenaline-fueled high points, "I Will Rise" is more elegiac than pulse-pounding, a languid track that slowly smuggles in its bombast, so gradually that it almost takes you unawares.
   A.V. Club, January 4, 2016


Monument Valley, the gorgeous M.C. Escher-inspired mobile puzzle game, has a haunting and ethereal soundtrack, and now the game's music is getting a physical release as a double LP.
   The Verge, January 26, 2016


In our latest Songs Illustrated, writer and illustrator Becky Cloonan channels eight-and-a-half-minute album closer, "Gifts for the Earth," into a visual elegy of haunting beauty with an insidious core—which couldn't be more appropriate.
   Paste Magazine, January 29, 2016

Haunting drones spiral delicately through a haze, while a sole piano accompanies Orlando Weeks' melancholy vocals through a dimly-lit daze. 
   DIY Mag, July 31, 2015


But the daring of Night Beds here is commendable, and overstuffed though it is, Ivywild is a beautiful and haunting album whose only flaw is that it offers too much of a good thing. If one can stomach the excess—to say nothing of the visceral emotional content—then Ivywild will be an enlightening experience into the deep crevasses of melancholy.
   Pop Matters, August 3, 2015


Still, that's part of what makes the film so haunting—there's a betterment for him just out of reach. Reay is so compelling in his own melancholic way that Homme Less could easily play on a nonfiction/narrative feature double bill with something like James Mangold's 1996 film Heavy, touching as it does on the same themes of loneliness, depression and squelched hope—romantic and otherwise.
   Paste Magazine, August 9, 2015


Ghosts of dead lovers and a sostenuto melody lend themselves to melancholy, haunting interpretations, like this collaboration between voice actor Sarah Elmaleh and writer/developer/one-time-Paste contributor Matthew Burns.
   Paste Magazine, August 10, 2015


Hauntingly melancholic yet grounded in a fictionalized reality that feels instantly familiar, "The Bird Hunters" is an exceptional, conversational bit of writing that flows forth effortlessly from Felker's unaffected delivery, creating vivid imagery full of nuance and detail that would fall flat in the hands of a lesser songwriter.
   Pop Matters, October 2, 2015


The tone is elegiac, melancholic, and meditative, filled with wistful flashbacks and haunting Polaroid snapshots — including many of Fred, whom she calls "my human angel from Detroit." Smith wonders, "If I write about the past as I simultaneously dwell in the present am I still in real time?"
   NPR, October 4, 2015


It's both haunting and exhilarating, with Baar's brooding vocals crooning over melancholic pianos and thundering drums.
   Consequence Of Sound, October 5, 2015


It's hopeful and haunting, as weighty piano accompanies Nelson's melancholic croon over stadium-sized drums.
   Spin Magazine, October 9, 2015


And to me, this is one of the most beautiful sounds that I've ever heard in the Arctic, hearing this haunting kind of melancholy call of the red knot over the tundra.
   NPR, October 20, 2015


This doesn't mean that Conor Murphy's vocals are not stellar; the vocal melodies accompany the instrumentation in a vein similar to Bon Iver, sweeping in and out between beautiful chord structures and haunting drumwork...

The melancholic, haunting atmosphere may pause for a winding build or pick up in force for a powerful track like "Night Channels," but it is always present as the tracks pour into one another to create a cohesive album; one linked sonically rather than just lyrically like the first storm.
   Sputnik Music, October 30, 2015


Jolie-Pitt (who wrote and directed the hauntingly melancholic, almost painfully beautiful By The Sea, lest anyone has forgotten) wants people to know that one never gets over that loss.
   The Huffington Post, November 24, 2015


Utilizing haunting space and texture to offset his emotive, melancholic crooning, Lynch wraps his vocals in a darkly cinematic sheen of electronics heavily indebted to the sound and feel of contemporary downtempo R&B.
   Pop Matters, December 14, 2015


Many listeners come to "Baker Street" (and stay) for its hypnotic saxophone line. It's a haunting sound that drops bread crumbs from a listener's pocket for their melancholy to follow. But few people know the origin story of rock's most iconic sax riff, which is complicated, to say the least.
   The Atlantic, December 17, 2015


Whoever wrote it, the melody remains haunting and no matter what lyrics are sung, there is an air of melancholy and foreshadowing of sadness. It was like that for me one Christmas.
   The Huffington Post, December 22, 2015


All the melancholy of the Vince Guaraldi classic pairing with the signature haunting guitar of Red House Painters/Sun Kil Moon frontman makes this song a standout on Kozelek's 2014 compilation Sings Christmas Carols (which is mostly filled with other renditions of holiday classics that are as straightforward as the album title).
   Paste Magazine, December 24, 2015


Ephemeral though the record's inspiration may be, the haunting beauty, fragile melancholy and instrumentation that speaks volumes all makes for an album that reaches far beyond its three quarters of an hour run-time. One of the most hauntingly beautiful records you'll ever hear.
   Drowned In Sound, January 15, 2016


There's a haunting quality behind the upbeat pace of Treetop Flyers' new single '31 Years'. Intertwining melancholy with melody in the vein of Future Islands and Alabama Shakes' most poignant moments, it's a beautiful, sky-scraping ode to a dearly departed.
   DIY Magazine, January 19, 2016


Instead, he warps his voice not unlike fellow Atlantan Young Thug to haunting effect. As with What a Time to Be Alive, Metro Boomin proves himself an indispensable star, delivering what could be his greatest beat ever on the hypnotizing, melancholy "Purple Reign".
   Pop Matters, January 20, 2016


Your voice is often ethereal and haunting (i.e., "Just Before Our Love Got Lost"). Do you label yourself a "melancholy" kind of artist, or do you think you are more of a chameleon than sometimes portrayed?
   Paste Magazine, January 21, 2016

But "Figure 8" isn't a vogue cut, though—it's more consistent with her normal MO, which is to say haunting, spare synths concurrent with her operatic vocals and a counter-rhythm that sounds like a creaky gear or a bag full of nails spilling to the floor.
   Jezebel, August 3, 2015

"Low Light Serenade" starts as spare as any song in Cale's catalog, but it just lures you in to hear the distant electric guitar notes (which recall Neil Young's haunting score to the film Dead Man) and the soft lap steel. These songs can fill up space or carve it out, but either way Duskland marks another evolution in Cale's sound, another shift in textures and sonic landscape that reflects the unique themes and beauties of this record. These songs are bittersweet, haunting yet hopeful, and endlessly listenable.  Duskland is Cale's golden hour.
   Pop Matters, August 6, 2015

Many of the most memorable contributions come from those tackling the Radio Ballads material, with Damien Dempsey opening the album in striking style with an impassioned "Schooldays Over", Norma Waterson bringing customary authority and power to "The Moving On Song" (with Eliza Carthy on violin and Martin Carthy on guitar providing taut accompaniment) and Karine Polwart contributing a startling take on "The Terror Time" that builds stealthily from a spare opening to haunting ambience, complete with Sinéad O'Connor-esque wails.
   Pop Matters, November 5, 2015

It's a spare, piano-driven number with a haunting ethereal quality similar to Regina Spektor (and no, it's not an A$AP Rocky cover).
   Stereogum, November 23, 2015

Given their unforgiving surroundings, it comes as little surprise that much of Jura is made up of hauntingly sparse ballads, leaden with melancholy and redolent of the salty sea air that no doubt swirled outside whatever structure in which these recordings were captured. In these spare, percussion-less acoustic recordings, they manage to tap into the heart and soul of their surroundings to create an album that transcends either's previous work, resulting in something wholly new and different.
   Pop Matters, December 9, 2015

In Michael Punke's hauntingly spare and gripping prose, The Revenant is a remarkable tale of obsession, the human will stretched to its limits, and the lengths that one man will go to for retribution.
   CBC, January 4, 2016

"And you know you're not the only one who must be fed," White sings over a spare, haunting piano. "The ever-spinning knot of need / We who cry and infinitely bleed / One and one and one / To take our place when done." So basically, humans are expendable and infinitely replaceable.
   NPR, January 15, 2016
❦
Process Overview
Reminder: this is not data science, this is an art project. This distinction is important, because these workflows weren't designed to test a specific hypothesis or adhere to scientific rigor, but rather to capture a snapshot of a particular current in online art writing. I'll keep this overview brief, and use the footnotes for the nitty-gritty details:²
I pieced together Google search strings using publication URLs, date ranges,³ and keywords.⁴
These results were manually scanned to find quotes which met the following criteria:⁵

No real-life news which could be considered legitimately haunting.
No articles about the recently deceased, or artists who met untimely ends in recent memory [eg. Kurt Cobain, 2Pac, etc].

A round of scripted formatting was applied to the resulting quotes, and they were queued into social feeds.
From there, everything basically ran on autopilot until I hit 1,000.⁶
I started this project around the beginning of the year, so I decided (arbitrarily) to begin the collection date range six months prior to give myself some wiggle room in case I needed it.
Collection Dates: July 29th, 2015 — January 31st, 2016
Posting Dates: January 4th, 2016 — July 28th, 2016
The posting range was 206 days, which averages out to 4.85 hauntings posted per day.⁷
The Publications
These quotes are drawn from 45 publications, which fall into the following rough categories:
Content Aggregators / Clickbait: HuffPo, Buzzfeed, Thrillist, etc.
Print Magazines: Rolling Stone, Paste, NME, Spin, Wired, etc.
Music: Pitchfork, Drowned In Sound, Sputnik Music,⁸ Consequence Of Sound, etc.
Culture: Vulture, Pop Matters, A.V. Club, Grantland (RIP)
Games: Kotaku, Polygon, Kill Screen, RPS, etc.
Fancy: BBC, CBC, NPR
Hometown Heroes: The SF Examiner, The Miami New Times, The Bold Italic, etc.
These were selected haphazardly: by familiarity, recommendations (both algorithmic and from friends), and through checking an author's other writing credits. There were some additional technical considerations which — unfortunately — prevented some publications from inclusion.⁹ See [Appx A] for the full list.
Quote Concentration:
The top 7 publications represent 50% of the total number of hauntings:

1: The Huffington Post    131 quotes, RT: 13.10%
2: Pop Matters             73 quotes, RT: 20.40%
3: Paste Magazine          72 quotes, RT: 27.60%
4: Sputnik Music           67 quotes, RT: 34.30%
5: Rolling Stone           65 quotes, RT: 40.80%
6: A.V. Club               52 quotes, RT: 46.00%
7: Consequence Of Sound    46 quotes, RT: 50.60%

While picking on The Huffington Post is a time-honored tradition, I think HuffPo's (winning?) score of 131 is misleading. I suspect we're looking at an XKCD population heatmap: i.e. HuffPo probably had the most hauntings simply because it published/aggregated the most content.
Though pinpointing the exact amount of content a website publishes is becoming increasingly difficult,¹⁰ my friend Patrick suggested I could ballpark a "Haunting Score" by using the average articles/week stat displayed on some RSS readers.
These RSS numbers proved to be kinda wiggly…¹¹ but as we had guessed, ordering the publications by quotes per weekly average bumps some of the lesser-known ones into the top spots:

Publications by Quotes/Weekly Avg. [wiggly]
----------------------------------------
 1. Paste Magazine            .960
 2. Pop Matters               .785
 3. Drowned In Sound          .667
 4. Spin Magazine             .420
 5. Thrillist                 .354
 6. Consequence Of Sound      .264
 7. Rolling Stone             .258
 8. Pitchfork                 .161
 9. Stereogum                 .160
10. A.V. Club                 .138
11. The Huffington Post       .135
12. Brooklyn Vegan            .134
13. DIY Magazine              .133
14. NPR                       .122
15. Kill Screen               .115

Temporal Distribution
Skewing the numbers here, I was actively adding publications to the group through the first couple months, so the lower numbers through September are to be expected.¹²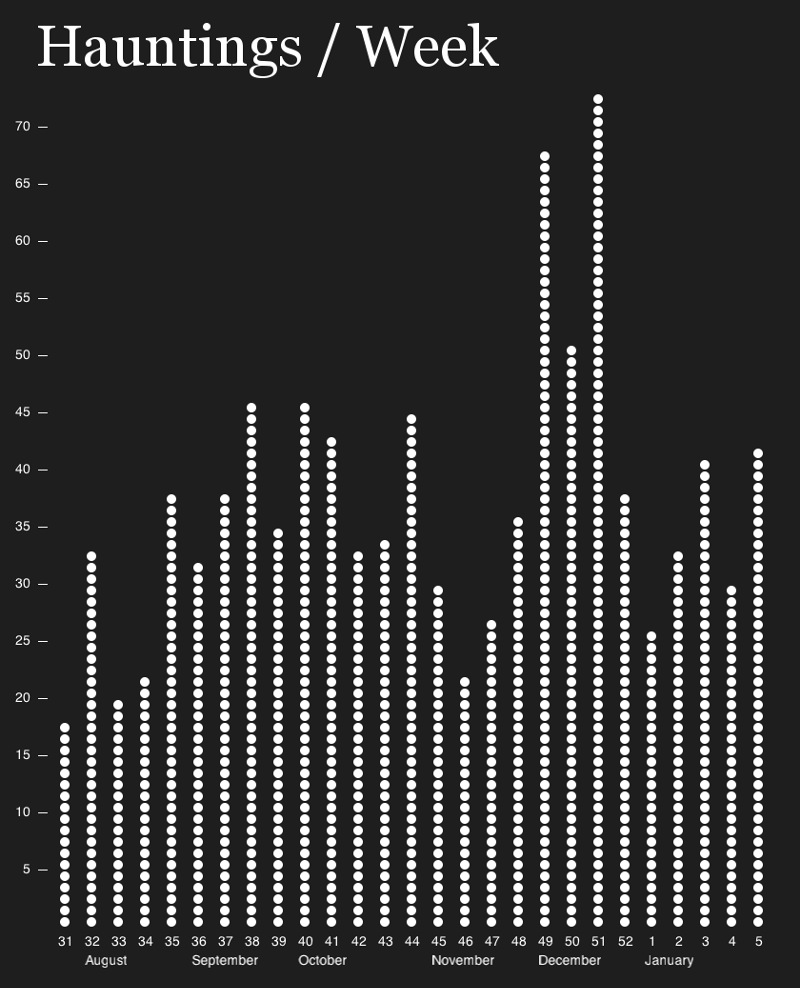 December was by far the most haunted month. I have a few observations here:
Year-end best-of lists and retrospectives appeared to be the major contributor. 60(!!!) of the quotes pulled in December come from these lists. Check [Appx C] for this full set of quotes.
Q4 is a major "thing" for pop music.¹³ There were likely more hauntings in December simply because there was more music being released. 2015's Q4 saw full-length releases from: Justin Bieber, Selena Gomez, Demi Lovato, Elie Goulding, Grimes, One Direction, and (of course) Adele… alongside many other smaller artists. Additionally, The Force Awakens (released December 14th) also accounts for a small handful of late-December hauntings.
I was surprised to find half a dozen articles referring to various Christmas carols as haunting. Perhaps this speaks to the nature of writers, who may be more acutely susceptible to those nagging Christmastime doldrums which sometimes affect the artistically-inclined. Hang in there, writers — don't let the winter get you down.
Lastly, I have a suspicion that the dip at the beginning of November represents a kind of "Halloween Haunting Hangover"; wherein writers and editors were so sick of October's spoOoOoky articles that they temporarily struck all spooky language from their pages (haunting included).¹⁴
Gone But Not Forgotten
There are a few key mass-haunting events which are not represented in these thousand quotes, but bear mentioning:
The primary one was the passing of David Bowie on January 10th, along with the release of Blackstar and its accompanying videos (which fell under rule #2). At the time of this writing, a Google search for "David Bowie Blackstar Haunting" returns 159,000 results.¹⁵
The release of Radiohead's "Moon Shaped Pool" on May 8th (2016) fell within the posting time frame, but not the collection time frame, and so is not included. Rolling Stone ran the headline "Radiohead's 'A Moon Shaped Pool' Album Is a Haunting, Stunning Triumph" because of course they did. A Twitter search for "Radiohead Haunting" paints a pretty good picture of how many sleepless nights Radiohead inflicted not just on members of the press, but the public at large.
❦
Creative Criticism
Now that I've harped on this issue six ways from Sunday, what can be done to actually fix it? Here's some actionable suggestions:
Writers:
Try using a different word instead of haunting.
Maybe ease off the throttle for ethereal, melancholic and spare, too.
Instead, find creative ways to describe the specific features which make the subject haunting.
If your publication requires you to stay within a particular reading level or writing tone, try having some conversations with your editors to see what sorts of experimentation might be permissible.
Personally, I've been experimenting with technical specificity… YMMV. Instead of "Haunting reverb" try "heavily compressed plate reverb, the high end subtly crackling with saturation."
I would love to see more general audience music/art writers attempt to develop approachable styles of discussing their subject matter not only in aesthetic or intertextual frameworks, but also with technical clarity.
Editors:
If several haunting articles have come across your desk recently, tell the writers to cheese it… or just edit the article and send the writer a nasty email. You're an editor, being a hardass is one of the perqs.
If you are required to meet particular engagement rates in order to ensure your employment, try having a conversation with someone from your bizdev department about possible alternative engagement strategies (or workflows / optimization tools, etc) which might be less dependent on repetition of particular SEO terms, headline syntaxes, or churning out samey articles with repetitive, standardized writing tones and diction.
Readers:
Email or tweet at publications every time you find a haunting.
Be funny rather than insulting — they'll get the point, so there's no reason to be rude. If enough people do this, maybe they'll respond by altering their writing style (even if it's only to save their inboxes).
The squeaky wheel gets the grease. #StopTheHaunting
Notes
Acknowledgements
Thanks to my patient Beta testers: Amy, Richard, Eliot, Bob, Matt, and Molly. Special thanks to Patrick for an early, influential edit of the written portions of this project.
Endnotes
[1] the leftfield gaming site Kill Screen. I think they've had some management / staff turnover in the intervening time?
[2] To the technically-focused reader: I am aware that some of this project's execution is kinda hacky and inefficient. Keep in mind that this is not my primary area of expertise. I firmly believe that, as increasing percentages of our lives are spent in virtual spaces, programming (like cooking) should be freely embraced by everyone regardless of skill level. Sometimes a homemade cake can surpass an expertly crafted one from a pâtisserie specifically because it was baked with love.
[3] Google uses the Julian calendar for this (Why tho???).
[4] The manner in which Google caches websites turned out to reveal some interesting SEO quirks built into particular sites' designs. For example: Pitchfork appears to use hidden tags, so occasionally I'd get false-positives on content which was tagged "haunting", even though the word itself did not appeared in the article.
Google's habit of caching recommended and sidebarred articles necessitated a nontrival amount of data pruning. When "haunting" was used in one of these recommended articles' titles (which happens often over at Billboard, Rolling Stone, and HuffPo), these publications would turn up dozens of false-positives over the date range.
Lastly, Google indexes comments on some sites… so that one time at the tender age of 14 you so boldly declared:
"Load suuuux!!! METALLICA sold out but MEGADETH STILL SHREDS!!!" — You, at the tender age of 14
…just might be forever preserved for posterity, like the stately and mysterious hieroglyphics adorning an untouched Pharaoh's tomb. Unfortunately, this also means than users who wrote haunting in their comments also contributed some false-positives.
[5] As it turns out, these two rules eliminated a significant amount of quotes.
For example, during the collection period, the photographs of 3-year-old Syrian refugee Alan Kurdi's death were regularly referred to as haunting.
Unfolding matters such as this are far beyond my ability as a writer to touch upon. Topics like war and mass dislocation absolutely warrant the use of the word haunting, and are completely outside the scope of this commentary.
Then, of course, the passing of David Bowie in January eliminated dozens of haunting quotes — more on this later.
Also, October presented a unique situation, wherein I was faced with an abundance of hits… but most were unsuitable due to the fact that haunting was being used quite appropriately in its spooky sense.
[6] Initially, I had no real estimate for how many hits I'd be getting during this process. After the first few rounds or pulling articles, the hit rate was holding steady at "a couple hundred per month". Eventually, as I began to feel like I had collected an adequate number of quotes, the number 1,000 was close enough that it made sense as a stopping point.
Additionally, if I've made any bonehead errors, each erroneous post would only account for 0.1% of the total set, which felt "safe enough to paint a good picture."
[7] In reality, the posting rate is skewed towards the beginning of the project. I started by posting 7 times daily, then eventually scaled it back to a more sustainable 3-ish over the next few months. Also: I didn't realize until writing this how closely these windows align — this is completely coincidental.
[8] Sputnik Music is a website I had not heard of until I was doing research for different article. It's been around since 2005, and has the interesting distinction of being the sort of utopian ideal "The World Wide Web" was prophesied to bring about; wherein anyone is free to write reviews, and amateur enthusiasts freely coexist with grizzled professionals.
The site is considered legit enough that it's included in Metacritic rankings and Wikipedia entries, so I opted to include it here as well. Unfortunately, it's haunting usage is quite high — which I found to come largely from reviews of metal and various heavy sub-genres.
[9] There were several sites originally on my list which I had to cut because they were not indexed in a way which made them searchable; or didn't return results correctly using this methodology.
[10] Some cursory searching reveals that websites now often construct their layouts and select their content dynamically, using an increasingly large set of tools… all of which can obscure "how much" a publication publishes.
[11] I used Feedly for this. To be frank, I am unsure of the accuracy of these RSS numbers — and some of them were demonstrably inaccurate or missing, which I have noted in [Appx A].
Astute readers will doubtless ask, "Why not multiply the weekly average by the total number of weeks and use a straight-up percentage instead?"
Haunting Scores (if instead calculated as percentages) provide an identically-ordered list, but appear very low as raw numbers. This is because these publications are printing articles about all manner of topics — many of which are not what I'd characterize as the "art writing" on which this project is focused. For example: Rolling Stone provides different RSS feeds for Sports, Politics, and Culture News, among others. Additionally, not all publications divide their RSS feeds in this way, so for consistency, I am using the average weekly value for each main feed (which collects all articles).
If there was a reasonable way to whittle down the articles/week into purely "art writing", I would expect to see these raw percentages scale much higher. Because of this discrepancy, I have elected instead to display this "less direct" metric for optics.
[12] All the dates used for this project are Google's cache dates, not the article's publish date — though, in practice they are normally same-day or only a few days apart.
[13] Most major artists who keep regimented release schedules can be expected to release something, if not a full-on album in Q4 (presumably at the behest of their management apparatus, aiming to capitalize on the purchasing uptick towards the holidays… but hey, maybe they just like the consistency?).
Further reading:
"Q4 has arrived! Here's your definitive guide to the next three months in pop" -Pop Justice (Note: this article freely mixes fact with fiction)
"List of 2015 Albums, Fourth Quarter" -Wikipedia
[#Drama] Side note: last year Rhianna caused a bit of an industry stir when she pushed back the release date for the highly-anticipated "Anti" from Q4 to Q1. After 4 years without a proper album, this delay signaled some "trouble in paradise". Her previous 4 albums had dropped almost exactly one year apart (from '09-'12) in the shimmering glory of Q4.
[14] This leads to an interesting follow-up question: if (presumably) publications continued to print a consistent amount of material… without haunting articles, what sorts of articles took up the slack during this time?
[15] It should be noted that around this time there is a corresponding dip in the total number of quotes I subsequently pulled, indicating there is perhaps a finite amount of haunting articles publications are willing to print.
[16] Totes email me if you find examples of this.
[17] "The flute line is supple and evocative." 😴 ... "The flute line is supple and evocative, calling to mind images of hushed pastoral landscapes at dusk, and the smell of wild mullberries sweetly ripening in the midsummer." 👌💯
[18] This article — in which dearest Rembert seizes the re-introduction of infamous blue liquor Hypnotiq by running the experiment of drinking a whole bottle in a single day, in an attempt to live out the 2000s-era-rap-fueled fantasy of adulthood he imagined as a teenager — is my favorite example of this type of writing.
Appendix A: Complete List of Publications

Publication             Quotes   Weekly    ~HS~    RSS:?
---------------------------------------------------------
 1: The Huffington Post   131     971     0.135    
 2: Pop Matters            73      93     0.785 
 3: Paste Magazine         72      75     0.960
 4: Sputnik Music          67       -         -    [X]
 5: Rolling Stone          65     252     0.258 
 6: A.V. Club              52     376     0.138 
 7: Consequence Of Sound   46     174     0.264
 8: Spin Magazine          34      81     0.420 
 9: Stereogum              33     206     0.160 
10: Billboard              31     419     0.074 
11: NPR                    30     245     0.122 
12: Vulture                29     336     0.086 
13: Pitchfork              27     168     0.161 
14: Buzzfeed               26     724     0.036 
15: Drowned In Sound       22      33     0.667
16: DIY Magazine           22     165     0.133 
17: Slant Magazine         19       6     3.162    [X]
18: Brooklyn Vegan         19     142     0.134
19: NME                    19     242     0.079
20: CBC                    18     258     0.070
21: Thrillist              17      48     0.354 
22: BBC                    16     529     0.030 
23: The Atlantic           15     259     0.058
24: IGN                    15     285     0.053 
25: Uproxx                 13     288     0.045 
26: Vogue                  12     243     0.049 
27: PopOptiq                9       3     3.000    [X]
28: Alternative Press       7      77     0.091
29: Wired                   7     125     0.056 
31: Kill Screen             6      52     0.115
30: The Verge               6     297     0.020 
32: The SF Examiner         5     132     0.038
33: Kotaku                  5     261     0.019 
34: Refinery29              5     518     0.010 
35: Rock Paper Shotgun      4     108     0.037 
36: Gamespot                4     354     0.011
37: DrownedInSound          3      33     0.091
38: Polygon                 3     161     0.019 
39: Jezebel                 3     245     0.012 
40: Hollywood Prospectus    3       -         -    [X]
41: Miami New Times         2     111     0.018 
42: Harper's Bazaar         2       -         -    [X]
43: Dazed Digital           1      70     0.014
44: Deadspin                1     271     0.004
45: Artrocker               1       1     1.000    [X]

Appendix B: Hauntings By Month

July:      17
August:    123
September: 163
October:   178
November:  129
December:  239
January:   151

Appendix C: Complete list of quotes from 2015 best-of lists and retrospectives

But it was the haunting sense of heartache and aloneness in her evocations of the emulsified L.A. high-life that made Honeymoon such a devastating listen.
   Rolling Stone, December 1, 2015


"I go to loud places to search for someone / To be quiet with, who will take me home," fellow xx member Romy Croft confesses amid dull club chatter and preaching on "Loud Places." Tracks like "Sleep Sound" and "Girl" bury voices, lift them, then bury them again, as if they're ghosts haunting the edges of the throbbing bass.
   Spin Magazine, December 1, 2015


The emotion just flowed out of frontman Johnny Stevens, making it one of late night's more hauntingly captivating performances of the year.
   Alternative Press, December 2, 2015


Though she admits that she and her inamorato's "love is a long goodbye, waiting on the train," it's a departure that never occurs—at least in this haunting, tear-streaked confessional.
   Paste Magazine, December 2, 2015


9. Partick Thistle let quirky artist David Shrigley design a hauntingly terrifying mascot.
   Buzzfeed, December 3, 2015


Touching on body image, mass media, consumerist religiosity, and the tortured relationships between ourselves, our bodies, our food, and each other, Kleeman's haunting, dazzlingly-written novel pulls you inexorably into another world, where the rules are different yet painfully familiar.
   The Huffington Post, December 4, 2015


In its trailer, Lost River is something tactile and gorgeous, a weirdo tale of poverty told lavishly, infused with the kind of subconsciously satisfying neon and deeply haunting images that are pretty much Apichatpong Weerasethakul's bread and butter nowadays.
   Paste Magazine, December 6, 2015


Their incredible first single, "Blood," is a mix of gospel-flavored vocals and a haunting bleak rhythm that'll make the hair stand up on the back of your neck. Here's hoping this band gets the bigger audience they deserve.
   A.V. Club, December 7, 2015


Long-married bandleaders Alan Sparhawk and Mimi Parker use Ones And Sixes as a showcase for some of their most haunting and discordant sounds, without sacrificing the crystalline beauty on which they've made their names.
   NPR, December 7, 2015


When Melanie Martinez creaks and moans on Cry Baby, she's not singing as much as she is haunting. Even when the gentle plinks of her weeping instrumentals are more Mannheim than music box, there's a beautifully sinister, spectral suggestion in the way she floats around a given beat.
   Spin Magazine, December 7, 2015


Even the cover art – a droopy kid in front of a chalkboard, sketching out song titles – is evocative of Pearl Jam's haunting video for "Jeremy."
   Rolling Stone, December 8, 2015


That Hannibal offered both elements and continued to push its own boundaries makes the series all the more haunting, beyond even its grotesque set pieces, but the fanbase the series cultivated, and the mad appetite for new heights of artistic expressiveness that Fuller consistently engendered, have created a lingering assurance that shows of this caliber can foster serious devotion.
   Slant Magazine, December 8, 2015


A small and haunting moment of beauty comes on "The Deluge" when a choir of women join her in hailing, "To cleanse the idea of self with the deluge of blood from flesh."...

The album's four lengthy tales of spirits tortured eternally by the four natural elements engross you in their intricately crafted atmospheres to become like some terrible haunting that won't ever end.
   Consequence Of Sound, December 9, 2015


What sets Wytches apart from the slew of similarly King-inspired tales is the distorted, haunting artwork from Jock, made even eerier by Matt Hollingsworth's wild splatters of color.
   Paste Magazine, December 9, 2015


It was, instead, the special guest who joined the elusive singer's frequent dance stand-in Maddie Ziegler in the gritty, haunting clip: Shia LaBeouf.
   Rolling Stone, December 9, 2015


This year was a dry year for me, books-wise, so reading The Ocean at the End of the Lane— a bizarre, haunting story written mostly from the credulous perspective of a young boy—felt like taking a shot of Bacardi 151 after being sober for months.
   The Atlantic, December 9, 2015


I seriously cannot gush enough about this incredible debut novel. A Romeo & JulietmeetsChildren of the Corn story, Blood & Salt is a haunting book featuring forbidden love, ancient curses and dark scenes of history.
   Paste Magazine, December 10, 2015


With supernatural elements sprinkled throughout, it's obvious why people have described the novel as Black Swan meets Orange is the New Black. It's a haunting story of friendship, betrayal and murder that's quite unlike anything you've read before.
   Paste Magazine, December 10, 2015


Sure, there might be something a bit otherworldly about her starry-eyed songs, but rest assured, all the emotions are coming from a very real place before being filtered through her fanciful, child-like gaze. Watch the intimate, haunting video we recorded with her during CMJ 2014 below.
   Paste Magazine, December 10, 2015


Vastum's third album, appropriately titled Hole Below, waves its themes like a burning flag, while the music continues to push forward, evolving further from their formative old school death metal roots towards something more oblique and haunting.
   Stereogum, December 10, 2015


The episode culminates in a modern interpretation of the ballad performed by the Indiana-based musical act Elephant Micah, and the effect is haunting and quite unforgettable.
   Vulture, December 11, 2015


In images of gunmen appearing and disappearing out of tall grass as if part of a giant Whac-A-Mole game, and of Mendelsohn placidly standing amid these killers while wearing a giant bearskin coat and a look of let's-get-on-it-with-it viciousness on his face, Slow West's climactic shootout exudes a strange and haunting ugliness.
   A.V. Club, December 14, 2015


Simultaneously haunting and a little bit cheesy (this is an FMV game, after all), Her Story quickly goes from simple murder mystery to a surreal fairytale-gone-wrong.
   Paste Magazine, December 14, 2015


The especially minimalist approach here does represent something new, even within Connors' world of perpetual newness: a greater step towards the haunting minimalist blues that is one of his many specialties.
   Pop Matters, December 14, 2015


Unlike anything else on country radio, the spare, haunting track doused any lingering bro-country machismo, entered the Top Five on the charts (where it's still climbing) and earned Cam her first Grammy nomination.
   Rolling Stone, December 14, 2015


In regards to the ancient aspect, don't go into this expecting hurdy-gurdy or drinking songs; rather, the Minneapolis trio takes a reverent, almost academic approach to the incorporation of epochal tunes, crafting elegant and triumphal melodies that entwine with hauntingly melodic black-metal riffs and harsh rasps.
   Spin Magazine, December 14, 2015


Skrillex & Diplo feat. Justin Bieber, "Where Are U Now?"
Justin Bieber shed his kiddie image with this hauntingly spare and moody Skrillex/Diplo-produced summer track; call it tropical house, but it's too cool and interior for any tourist beach I know.
 – Jason KingDarlingside, "God Of Loss"

The instrumentals are just as meticulous as the harmonies, the harmonies just as haunting as the lyrics, and the lyrics a testament to the Boston quartet's success to come.
 – Larry Groce, Mountain Stage Willow, "Feel Me"

A haunting sample anchors this stunning debut single by U.K. producer Sophie Wilson.
 – Otis Hart

Luzmila Carpio, "Tarpuricusum Sarata (Captain Planet remix)"
Over the years, Argentina's ZZK collective has perfected the art of mashing up traditional music with club beats. Luzmila Carpio, an indigenous Bolivian singer, is already a haunting singer; Captain Planet adds a touch of magic, and boom, it's an Andean club hit.
 – Jasmine Garsd

Kronos Quartet, "One Earth, One People, One Love (Riley)"
NASA commissioned Terry Riley to write "Sun Rings," marrying sounds collected in space with a string quartet. This rapturous and tender movement, with the cello at its fore, is mystical, magical and haunting.
 – Anastasia Tsioulcas

Faith No More, "Cone of Shame"
Has there ever been a heavy metal song with finger snaps? Only the return of Faith No More could have guaranteed this kind of suave and haunting weirdness in 2015.
 – Lars Gotrich
   NPR, December 15, 2015


Rectify remains the most hauntingly beautiful show on television.
   A.V. Club, December 16, 2015


So begins the first letter in a series of haunting messages left in Driver Wang's taxi. Spanning 1,500 years of history, the letters detail Wang's past lives—as a slave in Genghis Khan's army to a teen during China's cultural revolution.
   Paste Magazine, December 16, 2015


And the haunting moments out of vanished-past arrangements—Nelson Riddle strings and soured Chicago horns—are the compellingly bitter flourishes to an album where nostalgia feels less like an escape than a reminder that the ways things go to shit simply shift with the tides.
   Pitchfork, December 16, 2015


From the haunting melodies in the "One Inside" suite to the invigorating expansiveness of "Ode to the Rock 'n' Roller" and the Mastodon-esque heaviness of "Daughter/Whore," +4626 – Comfortzone maintains the blend of wildly vibrant arrangements and irresistible songwriting that makes every Beardfish album a gem.
   Pop Matters, December 16, 2015


2014 boasted First Aid Kit's Stay Gold; this year was all about Kristian Matsson, whose fourth album, Dark Bird Is Home, is full of haunting, Sigus Ros-esque tales of optimistic angst.
   The Atlantic, December 16, 2015


Anderszewski's haunting ornamentations in the Third Suite Sarabande seem to comment on the anguish while, three movements later, the subtle droning effects he uncovers in the jaunty Gavotte II bring the sound of a bagpipe to the party.
   NPR, December 17, 2015


Garden of Delete is hauntingly real, indescribably so. It's taught me of the complex and confusing feelings that can come with music that impacts us so profoundly, and how we always sustain that possibility of being amazed by it, of finding new methods of examining our own lives through the recorded experiences of others.
   Sputnik Music, December 17, 2015


Acoustic, haunting and erudite, Ryan Culwell's Flatlands fits neatly between Jason Isbell's Southeastern and James McMurtry's Complicated Game: country music for tortured intellects, exploring the internal struggle of both loving and wanting to leave one's home.
   Rolling Stone, December 18, 2015


But it was the haunting sense of heartache and aloneness in her evocations of the emulsified L.A. high-life that made Honeymoon such a devastating listen.
   Rolling Stone, December 18, 2015


The first officially released compilation of the stuff, Gqom Oh!: The Sound Of Durban, doesn't come out until January, so right now the best long listen is this 10-song mix of Rudeboyz tracks for Dazed and Confused Magazine. It includes 2013's defining "Mitsubishi Song," a haunting tune somewhere between a talking drum solo and Phil Collins' "In the Air Tonight." C.W.
   Rolling Stone, December 18, 2015


The extremely personal ballad, written by Cam (born Camaron Ochs), Tyler Johnson and Jeff Bhasker, was inspired by Cam's dream about rescuing an ex-boyfriend from a torched building. Unlike anything else on country radio, the spare, haunting track doused any lingering bro-country machismo, entered the Top Five on the charts (where it's still climbing) and earned Cam her first Grammy nomination.
   Rolling Stone, December 18, 2015


In one haunting scene, the adopted kids of the Midwestern's preacher's family sing a gorgeous hymn; the illustration of what it's like to be part of something bigger than yourself arrived just as Josh and Raquel decided to make their own world smaller.
   The Atlantic, December 18, 2015


We see the full range of human experience, all punctuated with these magical, haunting images of loss.
   Vulture, December 18, 2015


It's hauntingly beautiful at times, and despite having the opportunity to overdramatize the film's emotional buildup, manages to keep it as real as it possibly can and help guide the audience into a state of emotion instead of telling them what they should be feeling.
   Polygon, December 20, 2015


Yeezy manages to string it all together with a haunting hook, fire emojis and rap'n'roll charisma to create a memorable, ball-so-hard anthem.
   Billboard, December 21, 2015


our own Michael Roffman says, "Altogether, it's a haunting collection of tearful strings, glazed synths, and engulfing bass that mirrors the scenery and action at hand with compelling results."
   Consequence Of Sound, December 21, 2015


Metro Boomin produces beats that consistently have me almost moshing on the subway on the way to work, or looking for a partner with which to dance and belt out lyrics at the bar, even though the stories that Future provides once he settles in are haunting and solitary.
   Deadspin, December 22, 2015


The instrumentals are just as meticulous as the harmonies, the harmonies just as haunting as the lyrics, and the lyrics a testament to the Boston quartet's success to come.
   NPR, December 22, 2015


The writer Sam Sweet tells the story of these two loners, read directly from the liner notes, and interspersed with tracks off their haunting album.
   The Atlantic, December 22, 2015


Alexandra Kleeman's strange, haunting debut novel, You Too Can Have a Body Like Mine, is easily the weirdest book I read this year, and also easily one of the most brilliant.

... Richly layered and haunting, Find Me is an exploration of healing, memory, loss, loneliness, and the reasons we choose to live.
   Buzzfeed, December 23, 2015


Their voices fill the space in a haunting-yet-reverent way; some of the tracks are like wordless hymns sung by ghosts. Distance Future's surrounding ambience reminds me of the holy drones of Charlemagne Palestine and Janek Schaefer on Day of the Demons, but where that record's power came in clarity, Dora and Cooper's work is more mysterious—and ultimately something only these two could conjure.
   Pitchfork, December 23, 2015


Swooning synths and a haunting piano refrain give the tune a cinematic quality while the mournful acid bass threaded throughout the second half anchors it to the dance floor.
   Spin Magazine, December 23, 2015


Like the opening to the haunting "u," the album is a primal scream.
   Uproxx, December 23, 2015


However, Edith's haunting ambiance has been showcased on both "Frail" and "Deicide", each satiating the spirits who burn up a post-industrial dance floor.
   Consequence Of Sound, December 27, 2015


The narrative, haunting and evocative, is satiated with truth, pain, and longing. A beautiful, and well-rendered tale of the courage and tenacity it takes to keep going.
   The Huffington Post, December 29, 2015


The Dutch festival isn't big on mainstream buzz, which is why you won't see the usual suspects crowding the autumnal event's line-up. But they do have a thing for star power, and showcasing artists in their best light, a taste that leads to the likes of Julia Holter performing in a 975 year-old church, avant icon Annette Peacock playing the kind of haunting solo show that would give David Lynch goosebumps, and Bradford Cox performing back-to-back sets as both Atlas Sound and Deerhunter.
   Paste Magazine, December 30, 2015


Its score is haunting and lovely, even as its an indulgent homage to horror of yesteryear. Its psychological thrills are abstract, like all the best scary movies — the real object of fear here is not any one monster or enemy, but an idea, a concept.
   Polygon, December 30, 2015


Julieta Venegas is a down-to-earth pop royal with grandiloquent songwriting skills. Blessed with a honeyed-yet-haunting voice and a sound that combines Latin folk, indie rock and serene pop, Venegas croons, questions and reflects in the piano-laced "Porvenir."
   Rolling Stone, December 30, 2015


The modeling industry was obsessed with twins in 2015, and Cecilie and Amalie Moosgaard are something special. Hauntingly pretty with faces that are similar but not identical, the sisters made a splash at Prada and Miu Miu this year.
   Vogue, December 30, 2015


They're full of layers of biblical allusions, memories of childhood places, and haunting images of birds.
   Brooklyn Vegan, December 31, 2015


Cate Marvin's Oracle is a collection of poems both haunting and haunted — the voices of ghosts move through Staten Island and from page to page.
   Buzzfeed, December 31, 2015


Alex Garland's beautifully haunting film seems to want to bridge that gap. Taking cues from obvious predecessors like 2001: A Space Odyssey and AI—some will even compare it to Her—Ex Machina stands solidly on its own as a highly stylized and mesmerizing film, never overly dependent on CGI, and instead built upon the ample talents of a small cast.
   Paste Magazine, December 31, 2015


A depressed self-help guru meets a sales rep in a Cincinnati hotel; what follows is the best puppet-on-puppet sex scene since Team America, the saddest rendition of "Girls Just Wanna Have Fun" ever, and a haunting meditation on middle-age malaise.
   Rolling Stone, December 31, 2015